***** Update******
Please take a moment and click on the link for Veiyah! she needs our prayers now, her sweet Momma does too. this little one has been through so much and is continuing to struggle. say a prayer now if you could and then go catch up on her story.
Okay.....take two! I hate it when this happens, my post was ready to go and then the whole page disappeared! So we'll see which Not Me's pop up this time or I should say which ones I can remember.
Welcome to Not Me! Monday! This blog carnival was created by
MckMama
. You can head over to
her blog
to read what she and everyone else have not been doing this week.
Time to fess up about the week and let everyone know that we all are indeed human and God did allow some flaws to seep through.
I did NOT pick up the cell phone this week and have several minutes of conversation before realizing that I wasn't talking to the person I thought I was. My vision is NOT that bad, I can see the name on the screen when I hold it very far away and close to a light. I think that bulbs are just not as bright as they used to be right???
I did NOT have to reel in my dear husband this week when our 5 K garage door started doing this.... well you can't see it exactly but this is the closed position for now. Not good enough for you??? Hmmmmm not him either. I actually am not as upset about the door as I am the extremly cute hat I bought for Kendall and seem to have lost. It cost me a buck, but really now..... it is an ADORABLE hat.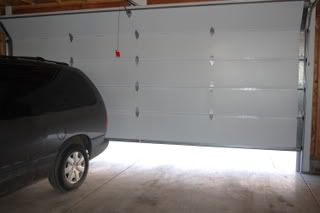 I did not after many times of reminding the boys to pick up their shoes decide that they would "disappear" for a time to let them be uncomfortable in old worn and small shoes. It did NOT backfire a bit when the boys were delighted to see their "favorite" shoes and then needed to wear them to the adult birthday party last night.......
I did NOT for the first time ever this week direct the boys in Valentines Day box making. They attended their first ever V-day party. Where you may ask Chuck E Cheese, another first for us. I guess we live in a very sheltered life.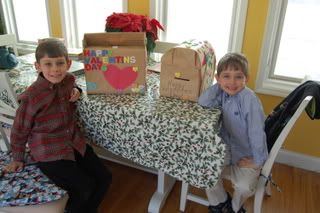 I did NOT get a phone call that went a bit like this:
Hello
Hello, this is Gaby from WifeSwap.
Who from WHO???
Gaby from WifeSwap, your family has been nominated to be on our show
Your Gaby from WIFESWAP?!?! Us, on the show????? The fear started to creep in the edges a bit. I have seen the show and well.......... hmmmmm. The raw food family and the witch family come to mind. Well, apparently if you are a farm family that raises llamas, heats with wood, homeschools your multiple children, have 2 distinct age groups, and blogs away the day then you are a rare commodity. Will we do it???? well, we did immediately head to the barn in our Carharts and boots. What??? Do you say you don't have Carharts and boots in every size for your family??? hmmmmm...... well as for the show we are awaiting direction and giving it much thought before stepping off that ledge.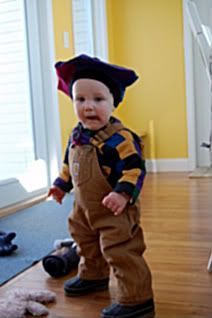 I did NOT decide that I was too tired to once again clean the bathroom in what seemed like mere hours after cleaning it the first time. Living in a house with 3 people of the male gender is NOT getting to me when it comes to AIM! I was so tired that I decided that I could "wipe" the entire bathroom with these...... and look they help combat flu virus!!
I did NOT get the most beautiful spring tulips from my wonderful husband for Valentines Day! They just look so pretty I can almost feel the sun starting to come through the cold winter.
Lastly I did NOT try to use my own warped parenting on myself and not allow myself to take my computer to bed to make it high on the list again this week for the Not Me Monday, unless I got our taxes done. As you can see I didn't get done and I DO follow through with punishments around here....... Still trying to bask in the #3 spot of long ago last week.
Hmmmm pictures to come later and it isn't just a ploy to get you back I just can't wait for them to download right now and be lower in the line!??!!?!? Hmmmmmm after 10:00 and no school started yet..... that is what Not Me does to me!