I bet you didn't think it would take so long to give the answer to the "Any Idea Why?" post. Well it has been a bit crazy and if your a Face Book "person" then you may have also been "bit" by the bug. FARM TOWN....... I never thought of myself as Obsessive Compulsive BUT..... I had never met Farm Town. This little fun application game has taken over our free time. "Our??" you ask???? Well it seem that the boys have been bitten as well. Even so far as to wake me in the wee hours of morning only to ask "Can we play Farm Town?"
If by some miracle you have escaped Farm Town but are interested just let me know and you can play too. But beware..... this game may be injurious to your free time (waking mmoments).
And now for the explanation of the picture...............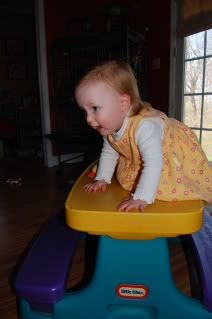 it seems my sweet little girl is yet a first. None of the kids have EVER climed ON the table but she seems to think it is a stage and she should dance...... with no regard for the sides it really isn't a good idea. If I am not in the room I hear "uh-oh" "help" and she is ratted out by this guy. And BTW, I will have to give my little daredevil the idea that this could be a boat! I don't think that I have a imaginative bone in my body, never would have come up with that.
I knew God would show me a reason I had this charming but MESSY bird!
So remember ....... if YOU want an addiction and to play Farm Town just let me know. We could be neighbors.......