We have a little ritual at our house since I am not the jump out of bed at the crack of dawn kind of girl. We start the day in my bed watching a bit of TV. The boys love I Love Lucy show. You know the old reruns, we are pretty strict about what the kids watch but the really like the show. If you look deep in your memory banks you should remember the classic episode of "Job Switch"... or better known as the Candy Episode.
Lucy and Ethel get to work in a candy factory while Ricky and Fred stay home and take care of the house. The girls last chance to keep their job is to be candy wrappers. They are told that if one piece of candy gets passed them they are fired. so..... the candy starts to roll and go faster and faster. Not being able to keep up they start dumping the candy down their dresses..... you get the idea. A real belly laugh at our house.
So ...... to my surprise look at what Kendall has done with her Cheerios at breakfast the day we watched the episode.... can you see them????? At first I couldn't figure out what she was doing but then I realized she was mimicking the show!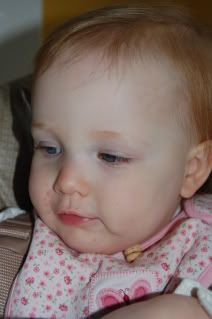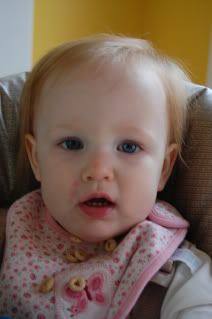 What a funny girl!