Welcome to Not Me! Monday! This blog carnival was created by
MckMama
. You can head over to
her blog
to read what she and everyone else have not been doing this week.
What a week..... what a week!! There are real advantages to all being sick at one time but when your in the middle of it it is NOT the ugliest thing!!! We did NOT all stay sick until mid-week, then the boys were feeling better. Kendall's fever broke and she seemed to just "deal" with being under the weather. My husband did NOT end up being sick the longest.... hmmmmm..... really...... sounds like he might NOT be the biggest baby in the house. How about your house is your husband a HORRIBLE sick person?? Mine is NOT the worst, we didn't all just seem to be exhausted even when we were feeling better.
We did NOT speed through part of the week in school so that we could have the end of the week open. I did NOT loose my temper just a few times with all the nose blowing and scratchy throats and whinning about not wanting to do school. I did NOT use bribery to get them to comply.... I wouldn't do that, what self-respecting Mom would!??!
Kendall has NOT seemed to explode during the last week in the "big" girl department. She is talking a lot and loves to sing! She also has started playing by herself very well. Sesame Street is her favorite TV show and she jumps up and dances whenever there is music.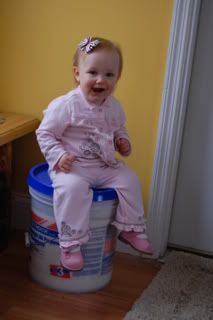 I did NOT feel pretty embarrassed about still having Christmas things out last week and put all (most) of them away. I do NOT have a Christmas tree still sitting in front of the window..... lit. Well, it is still pretty right??
The kids and I did NOT pack up the van and head North on Thursday last week. I did NOT worry a bit that this trip might interrupt our Thursday night TV line up. Nope I would never put TV viewing before family.
We did NOT plan to spend a few days in the woods working on a family tradition. When I was a child our family started to make Maple Syrup in March every year. We tapped the trees in a family owned woods and then collect the sweet water that came from the trees. This is then cooked down and bottled......... yummy! When I was a kid there are 2 memories about Maple Syrup that come to mind first. Sitting in the "sugar shack" and getting poison sumac so bad that both my Mom and I ended up in the ER covered with poison inside and out from the smoke, and the other thing was being allowed to drive the truck when I wasn't old enough yet. Slow and on the back roads.... but on the way home Dad would hand me the keys and let me drive. One time when we got home I confused the gas for the brake and just missed hitting the house when I turned into the driveway.... So of course I wanted my kids to experience this childhood memory right??? Well, they aren't near old enough to try the driving and we carefully check the woods for vines now. It truely is one of the big memories as a kid, running from tree to tree and occaisionally just tipping up the bucket and drinking it. So after driving to the sight and bundling up we trekked the mile from the road to the woods, fully Carharted, gloves and hats. The first morning it was still so cold that the sugar water was frozen in the buckets. By the last day though we didn't need gloves or hats.... good thing we forgot them when we went to the woods.
It was NOT so muddy that Logan lost his boots the second day. He did NOT just about drive himself crazy because when he emptied the buckets "they are still dripping!!!" He ran from tree to tree through the woods trying to keep up with the dripping. We did NOT gather, boil, gather, boil, and then get the tractor stuck in the mud for 3 days. Taylor did NOT after the first couple times around the woods decide that it is much more fun to play with the cousins and their 4-wheelers. We did NOT also get to spend time with my brother, his kids, and my daughter Courtney who was on spring break. I did NOT see a BIG smile on my quiet Dad's face seeing all but 2 of his Grandkids making new memories in the woods. Next time we need to get Tiffany and Kendall there. Tiffany did NOT pass the multiple exams she took during the time we were gone and little Kendall just got one on one snuggle time with Granny.
Just for a bit of reference 50 gallons of sugar water makes 1 gallon of sweet yummy syrup! That is NOT a lot of work..... running from tree to tree gathering, then boiling boiling skimming skimming ....... in the end it is SO worth it. But the next time you pour some syrup on your pancakes just think about all the gathering gathering boiling boiling ........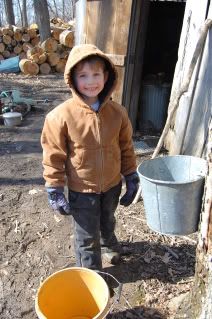 We did NOT stay home from church today again this week. Kendall coughed a lot last night and woke with one of those YUCKY noses that MUST be harboring germs. All the cheek pinching that she gets at church may just get people sick. The boys were wiped out from the days in the woods so we stayed home and had our own little church.
God is SO good!
We did NOT have a great time visiting with my parents! I hadn't been home to see them since January 1st. This trip was long overdue......... we did NOT let too much time go by without seeing each other. Family is TOO important!!!
How about you???????? Leave a comment and let me know your there............